Through this book, I would like to try and connect society with the artist and build that bridge between art and non-art lovers. 'The Conductor' gives me a chance to introduce people of our country and elsewhere to explain what art is or how it can be perceived? What is abstract art and abstract expressionism all about? It is not only a part of art education but also a way of reintroducing to our generation and the future ones of what the previous generation of Indian modern painters did and talk about their guts, glory, style, and intention.
The first and foremost core factor for me to write this book was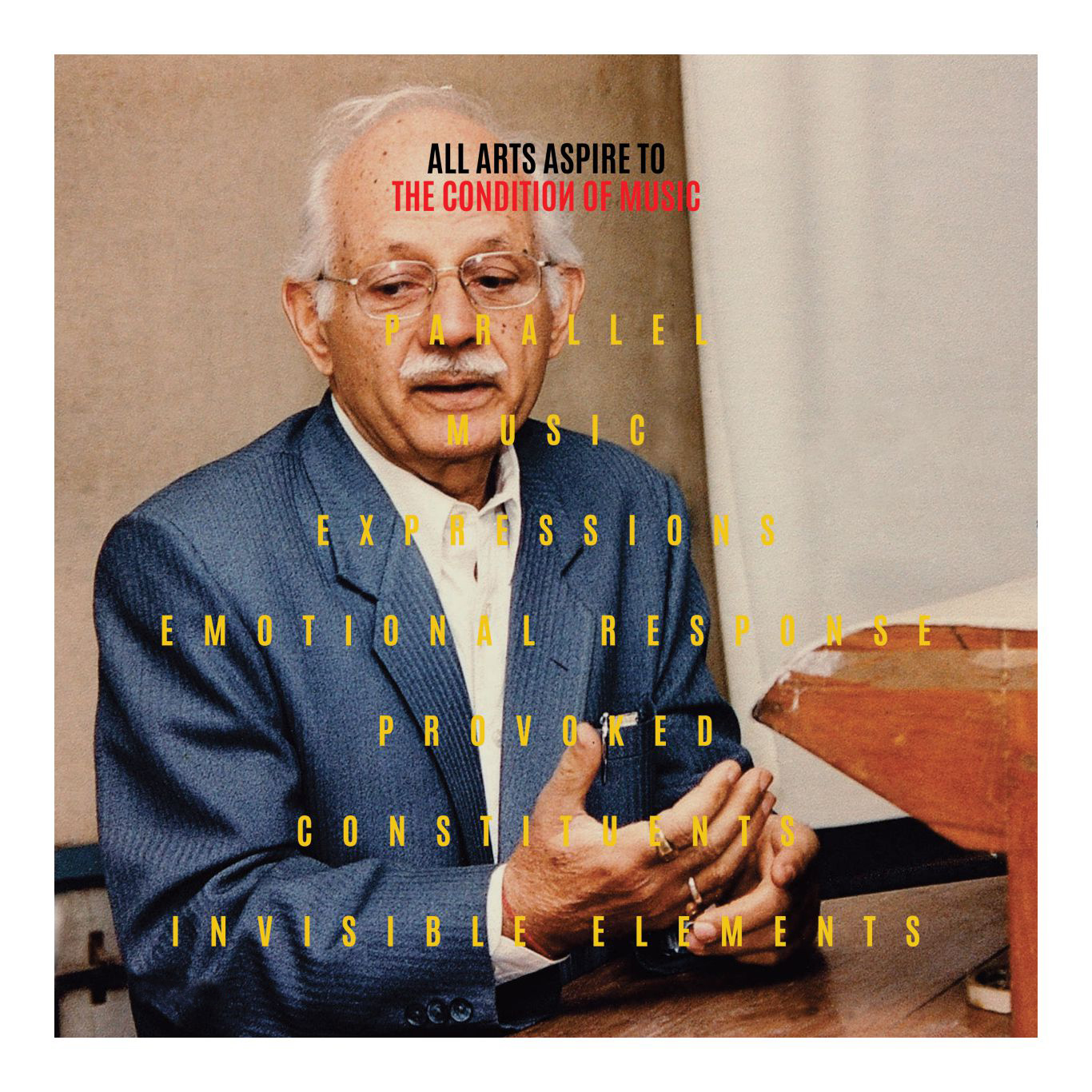 Ratan Parimoo. He was not just a painter in the 1950s, he was a bold, carefree and true painter. An artist committed to his art and painted with conviction. Courageous enough to explore his new style, Parimoo created his own path as an artist while India was searching for its identity post-independence. Going through the history of what is now termed as Indian Modern Art (which was Indian contemporary art back then); I would consider Parimoo as one of the pioneers of Abstract Expressionism in India. He understood and painted pure abstraction. I consider myself very fortunate to be able to write on a hidden gem of modern Indian art.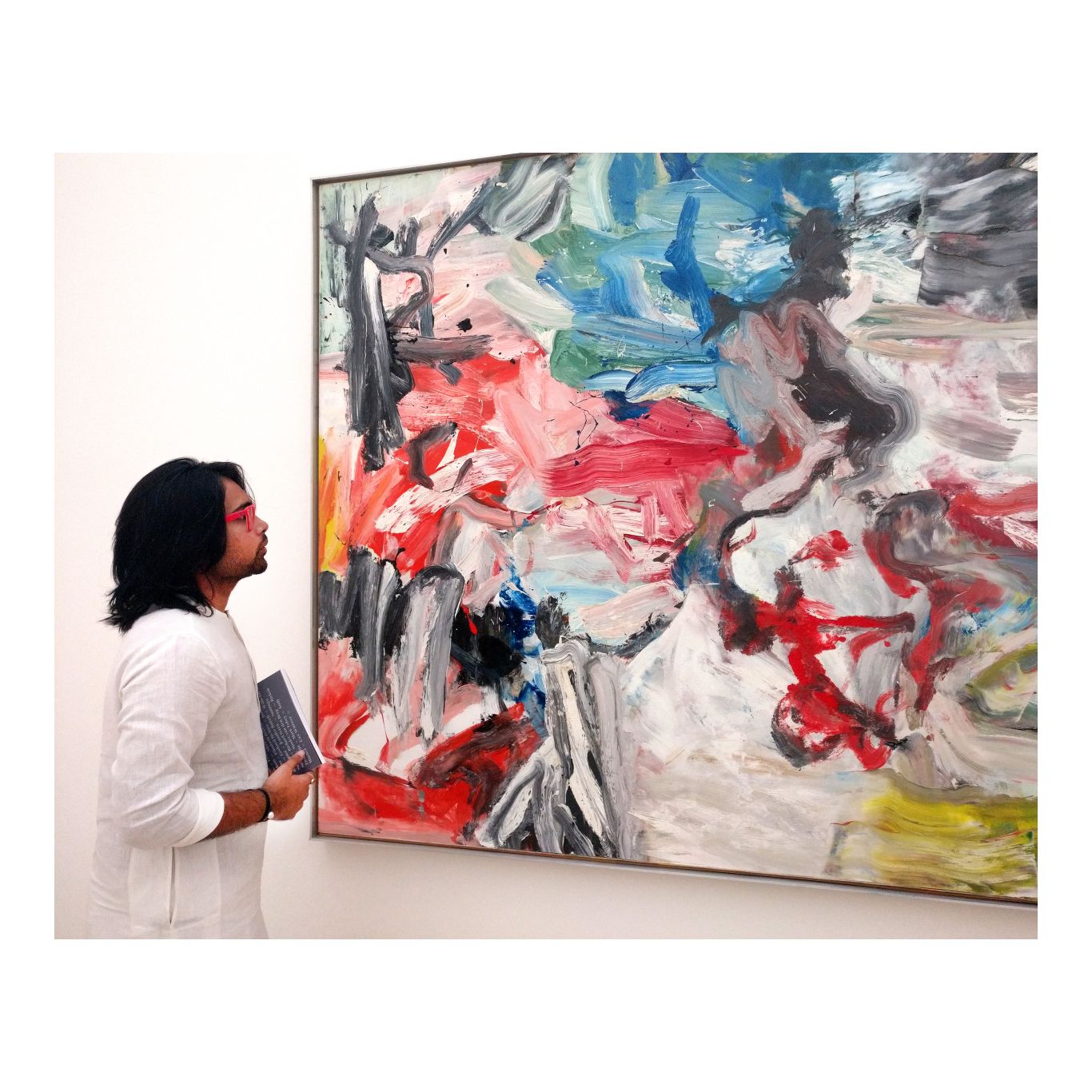 As a curator, checking the signature and date of the work has become akin to second nature, but this time I was taken aback. On seeing his work with such vivacious colours on a sixty-year-old canvas, I was compelled to reconfirm the year out of sheer disbelief. For a moment I had to question myself as to when was the last time I saw Indian abstract expressionist work from the late 1950s? Even though I knew these are old works of art, I was genuinely baffled and awestruck. Who would leave any chance to write about modern masterpieces?
So, why must one be excited about pure abstraction, abstract expressionism, the 1950s, and Ratan Parimoo? Compare this scenario with the creation of an electric car at a time when cars run on fuel, or a touch screen phone when the world was using keypads – These create a long-lasting impact on the world – the people who invented them are termed as visionaries, geniuses, trendsetters, innovators and path breakers.
At a time when the society was obsessed with figurative art, there was one artist along with some of his peers and his guru, who were exploring something that was never tried before by Indian artists in India: Abstract Expressionism.
To sell artworks in the 1950s was like a dream. It was only past 2000 when art began to be viewed as a dynamic business in India. Creating artworks with limited resources was tough and to sell them was even tougher. Only a few fortunate artists managed to sell their work at prices just enough to earn a living. Who in their right mind would try to paint something different like Abstract Expressionism that has only been done in the West? Parimoo Sir did it. Conviction and guts are very important for an artist to innovate, grow and prosper his/her art.
A conductor is a person who keeps all the musicians in the orchestra and different instruments together, on track. Looking at this series made me visualize him as a conductor and his use of colours and brush strokes as components of his symphony. He is the person who manages the emotions, colours, brush strokes, space, forms and overall composition. However, the conductor does more than that. Here, Parimoo adds more to it. What he adds is his expressions – the emotions that reach the audience without the intention to reach out.
Why do they need Parimoo's expressions? Because it is the expressions that give meaning to colours, brush strokes and composition.
Just like a musician, Parimoo has composed his ideas, thoughts, emotions and feelings through the arrangement of forms, colours, textures, material and brush strokes. The emotion is expressed through colours, the brushstrokes show the intensity, the depth or sensitivity through texture and aligning it with lines or patches. At times, his spontaneity also plays a role in the overall composition as a background tune that is repeated or given support to balance the entire musical composition.
These works will speak to you on an emotional level and to truly enjoy the work it needs to be an interactive experience for you.
Abstraction is purely based on thoughts, colours, forms, brush strokes. Each work has emotions. Emotions translate into action. This action becomes an expression.
One of the interesting aspects to be observed in Ratan Parimoo's works is how he managed to retain Indian sensibilities through forms and colours. The expressions are universal, but the colours are always inspired by one's surroundings and then mixed with emotions. Even though Parimoo's work was inspired by American, German and Russian artists (since they were the ones who initiated this movement and style), he mainly worked with Indian colours. A slight stroke of playfulness and his own expressionist style created this magic.
Parimoo's brushwork is too broad and bold for expressionism.  Just like his professor NS Bendre, he too is a  fine colourist.
A Range of style and subject
His creativity as an Indian artist is hemmed between contemporary aesthetic ideas and the rich Indian artistic heritage of the past. Parimoo's first phase was the outcome of his training which made him analyze the perspective and line, when his paintings depicted his visual experiences of things seen by him or remembered by him. Then came the second phase (1960s) where he found himself circumscribed by method, wherein he strived to get rid of lines and began working simply with colour and gesture surfaces. Post 1970 (the third phase) Parimoo made a fresh beginning and found himself developing into an introvert and brooding over his own world of fantasy. This kindled his interest in mythological imageries and situations, and his paintings of this phase portrayed his fantasies and fear.
In those days, Parimoo and a lot of other Indian artists could barely afford a good canvas, colours or tools due to the lack of availability and limited resources; let alone have access to reference materials and books. It was during such times where Parimoo was resourceful enough to create his own canvas (that was of high quality even by today's standards).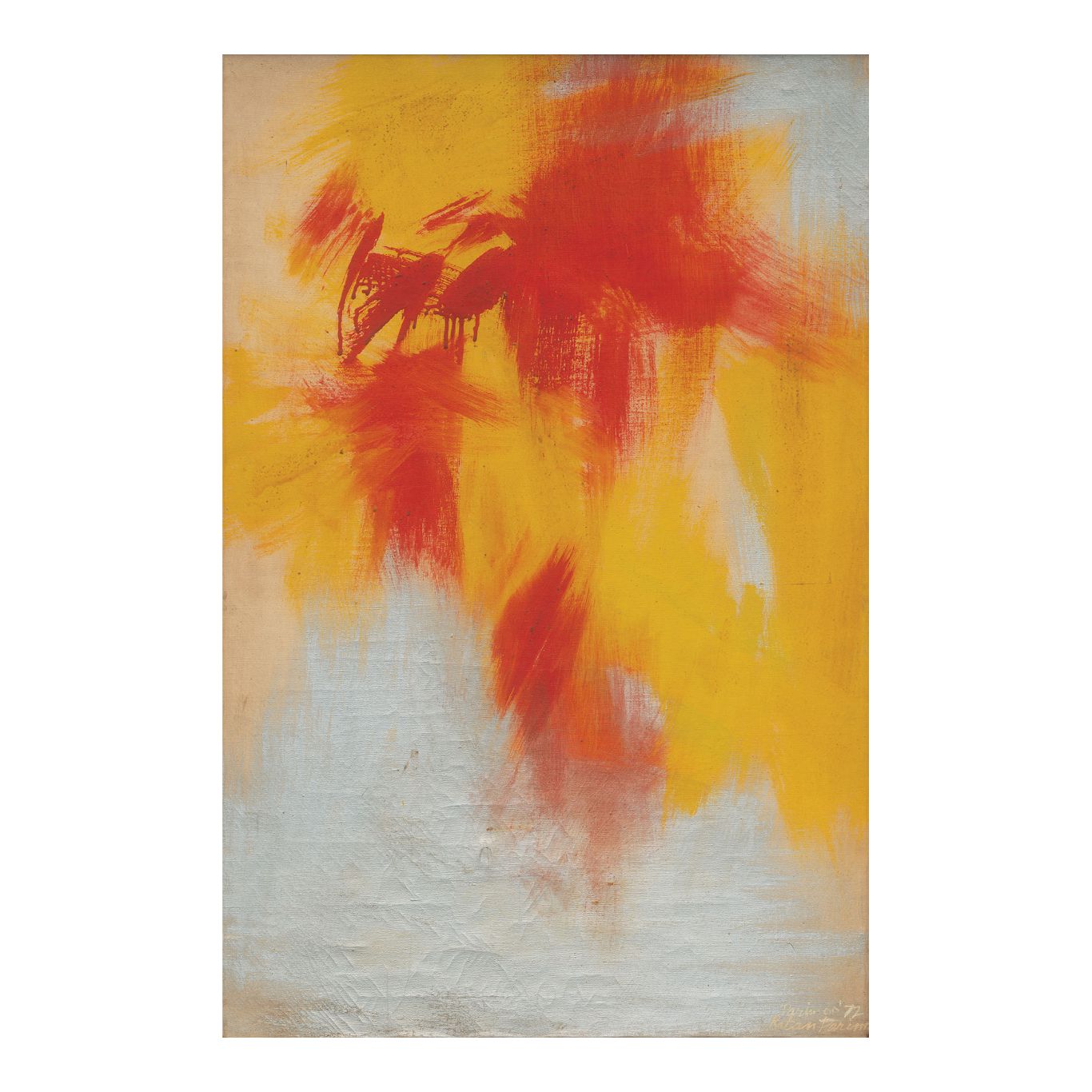 The reason Parimoo's work attracts and engages us with such ease is because it was not created with the intention of selling, exhibiting or any other selfish motive. These works of art are the result of raw emotions, pure colours, true abstraction and honest expressions. If looked at with pure heart and mind, the vibes felt can take the viewer to a whole other level. He wasn't looking for acceptance from society, he didn't care for titles and accolades nor for criticism. He didn't question whether his work and his thoughts were ahead of their time or what his contemporaries thought about it. Not once did he worry if he was losing touch with the figurative style of painting. Thankfully, he never thought about anything except just doing his work without self-doubts and questioning. As a result of that attitude, we have a treasure of beautiful works, some of them hitherto unseen, that the nation should be proud of. This collection becomes the foundation for the next generation of artists. It will add immense value to modern Indian art collectors, galleries and museums and will even prove to be beneficial to the ecosystem.
Parimoo has done his part as an artist – he painted what he wanted to express. Now, as a society it is our duty to understand his art, appreciate it, and preserve it for generations to come. This book is a small effort on my part to give the reader an insight into Parimoo's works, help them understand the artist and make them realize the importance of his expression to us in the present and future times.
Besides being a great artist, author and art historian, Ratan Parimoo is an amazing human being too. Having known him for well over a decade now, he is by far one of the most humble and sincere artists I have had the privilege of meeting. Intelligent, knowledgeable, polite, and gentle – barely begin to describe the person that Ratan Parimoo is. But this series shows a different side of him. These works of him as an artist are full of emotions –  wild, fast, rough, impulsive, immediate – which are opposite to his nature as a person.
This contradiction is what makes it intriguing to understand the mind of the artist, more about his work and the impact it creates on us as viewers and the next era of contemporary Indian art.
In India, we need more such art books that educate the audience mainly the students, art lovers who want to start collecting art and the society at large. Two main things that become a hurdle to make art books popular in India is 1. The language used 2. The price of the book.
We have tried to create a book that starts with an introduction to the style. A quick guide to abstraction will be the first step to know Parimoo's art. To connect with an artwork, one needs to understand the artist first. knowing the artist, his childhood, relationship with parents, early years as a student etc. this all makes the reader able to connect the dots on what, how, and why the artist has come to this point in his career or his selection of a particular art style.
If you are reading on a legend like Parimoo who has a long career span understanding his shifts in styles and subject is also very necessary. It helps you in sync with the artist's mind, so we have one chapter on his transformation process from figurative to abstract.
Coming to the main subject – why I think he is the conductor? But before that, I have tried to explain what abstract expressionism is and how Parimoo conducts his works being a conductor of the symphony of expression and colours. To express, colours play a vital role. So we have a dedicated chapter on the impact of colour where I talk about colours and culture, their effect on paintings and conductor's colours.
In the end, we have tried to create an outline of Parimoo's long professional career as an author himself, as a teacher, art historian, editor, museum director and his various roles in a lifetime. I am sure this book will connect with everyone who wants to understand art and artists, who want to explore Indian art and are proud of it.
I hope you will enjoy reading this book as much as I did while researching, writing, compiling and presenting it in one memorable form!
 Photos and Text © A Diary of a Curator ®